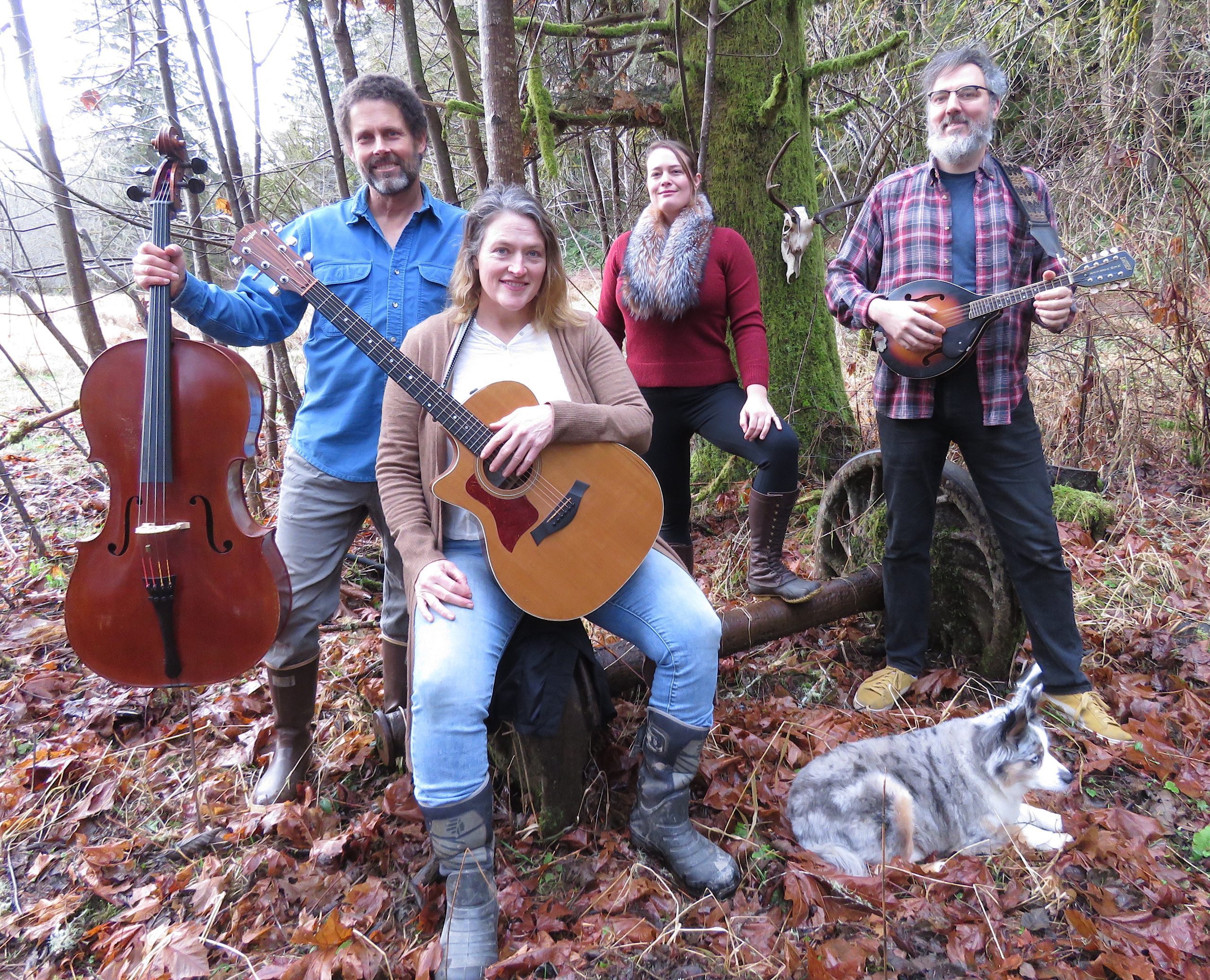 CRK multi-day programs feature live music performances and interactive talks about local history and culture by and about the people of the Columbia-Pacific region. Live music is provided by the band, Skamokawa Swamp Opera, whose members include Erik Friend and CRK guides Kyleen Austin, Andrew Emlen, and Wren Hendriks.
Read on to learn more about the music and upcoming venues directly from the band members.
What are the origins of Skamokawa Swamp Opera?
The band was founded in fall of 2013 in Wahkiakum County, WA, which is a small community of about 4,200 people with a disproportionate amount of musicians and music lovers. We heard about each other through the network and met up at the local farmer's market. Andrew plays cello, guitar, banjo and mandocello. Kyleen is a trained opera singer (soprano), songwriter and guitar player. A former band member recruited Erik Friend, who plays percussion and mandolin. Wren joined us last year and is also a singer/songwriter, plays guitar, and has a background in musical theater.
How did you choose the band's name?
It was kind of funny and spontaneous. Because Kyleen is a trained opera singer, we would surprise audiences with actual opera from time to time. One night right before a performance someone asked us what our name was and I (Andrew) jokingly said "Skamokawa Swamp Opera." We all looked at each other and said yes that's it! Nowadays most people refer to us as the Swamp Opera because spelling or pronouncing Skamokawa (ska-MOCK-a-way) can be difficult.
What type of music do you play?
We play music with a story. Our music could be described as eclectic with roots in folk, rock and country. Our focus for Road Scholar programs and our upcoming shows is about the people of the Columbia-Pacific region. A local favorite is the Wahkiakum County Sheriff's Report which Andrew came up with as a fun way to develop new material. Each song is unique and reflects the artistry and background that each band member brings to the group. We love to share our experiences through music at local shows. 
Tell us more about your upcoming shows. 
The concert in Oysterville on January 15 is now sold out. The concert takes place in an historic home next to Willapa Bay. We have played here many times and hope to play many times to come. The cover fee is $15 and everyone brings a potluck dish. After we play music we all have dinner together. It's a great time!   
Our second event this month is on January 22 at the Naselle Community Center at 3 pm. We will play original music plus cover material by other local artists, Mary Garvey, who is a prolific songwriter; and the late Kerrie McNally. Kerrie left us a legacy of songs about this area and its people. Both artists' songs paint an accurate picture of life in this region
What bands do you listen to? 
Right now I'm (Kyleen) listening to a playlist mix of with Kaleo, Madeleine Peyroux, Greg Brown, and Nora Jones. The last live show I (Andrew) went to was Sarah Jarosz who is a grammy winning instrumentalist. There's no music I don't like (Wren). I am always going through a different phase with music but have a special place in my heart for folk bands. I like bluegrass and have been on a big lo-fi kick recently, and enjoying down home music and bands at the local brewery playing trombones, saxophone, steel strings, dulcimer, and banjo. 
How does your music inspire your work leading kayaking tours in the lower Columbia River, or vice versa? 
People who kayak with CRK enjoy the lectures about the history, geology and biology of the area, which is a great way to understand it. But if you want to feel it you've got to put it to music. It's really nice for participants on multi-day programs who get to hear these stories during the day and in other evening programs, and then to hear about it through music. The music is its own force of nature, like the water, and it will carry you along on an adventure. And if you are ever feeling nervous on the water, singing is the best way to get through it.